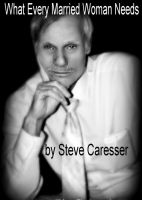 Review by: Lada Ray on March 13, 2012 : 

This review of Steve Caresser's book, What Every Married Woman Needs, is based solely on content. In reading this little "manual," I notice how poetic, understanding and protective the author is towards women. It is reminiscent of the old world chivalry that is all but extinct in today's USA and of which I am personally a big fan.
A great reminder for our men, this book is a sweet sentiment and the author speaks from the heart. Every woman needs a "Caresser" in her life, no matter how independent and successful she might be.
You can buy this book at Smashwords: http://www.smashwords.com/books/view/127929
Steve Caresser's Website: http://www.eprintedbooks.com/